I am writing this blog on a Monday (two days before my 45th birthday!) and I realize this week I should be tapering for a half marathon I have been preparing for. But, instead, I am on mandatory rest because I have pneumonia (I am on the mend). 
Two weeks ago I started not feeling good. Kevin and Kori had the flu so I thought I may be getting it as well. I took all the medicine I could find, I meditated, I rested as much as I could and I went to Alabama where I raced on a fever. This, of course, set me back. Last week I was feeling crappier and on Thursday I ended up in Urgent Care where I found out what I suspected: I have pneumonia. The doctor ordered rest and antibiotics. Doctor orders came like music to my ears since I was feeling so crappy. Yes, I already knew I needed rest but, growing up in a "let's do things/rest os for weeks" mentality I still struggle from time to time to just sit and rest and let my body heal instead of trying to keep a "normal" life while I am sick. 
I have learned that life is 10% what happens to you and 90% how you react to it. I have also learned than happiness is accepting things the way they are is without wishing they would be different. So I realized this was for the better since Kevin is in Colorado Springs (he was selected Head Coach of the National USA Jr. Swim Team select camp) and I had been stressing over when I would do my last three long, hard runs and manage to take Kori to her synchro meet and be there to support her. Synchro meets start at 7am and they finish late (like 6pm. It's an all day thing fr three days in a row. he also had a swim meet on Monday after synchro!). Should I run at 3am so I can be done by 6am? Should I drop her early and go run hoping I would be back in time to knox her hair, apply make up and cheer on her?, I knew there was a storm coming on the weekend so that was another thing to keep in mind for my run.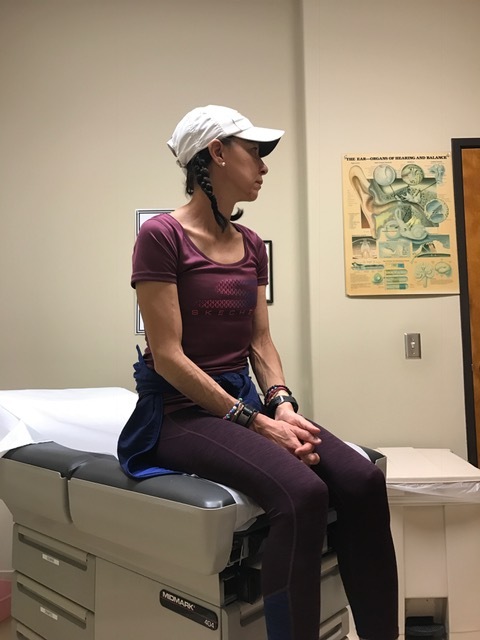 As I was sitting down in my house coming back from Urgent Care I got a phone call from Paramount Pictures regarding an audition tape Kori had sent. They told me she had to be in LA at 9:45am on Friday (the following day). So, What do you do? As a runner you probably stay home and rest. As a human being who can barely make it to the kitchen without coughing and having a bad headache you stay and rest. As a mom, there was no question other than "Do we drive there or do we fly?". I know this is important to Kori and I also know I need to take care of myself so I can keep supporting her. But this is a one in a million opportunity and it just happened to be that particular day. If you know how these things work, you can't choose when you want to go and film, you have to follow the schedule of the producers so, we flew to LA at 6am. We made it to LA and a storm was coming in. Kori did great in her filming and when we left we went to The Grove for some food (more like See's candies... we had a lot of them!).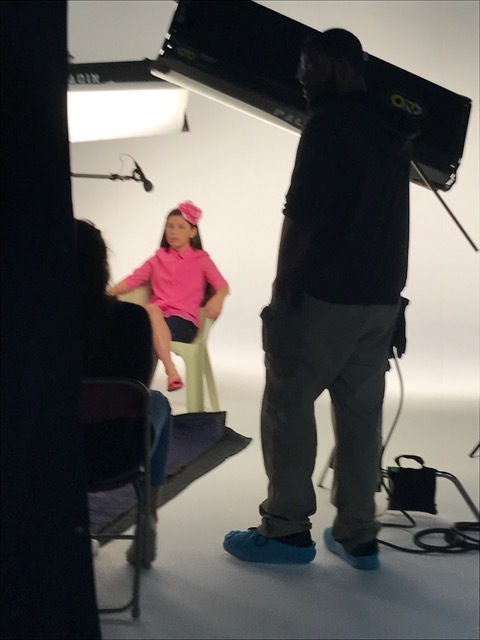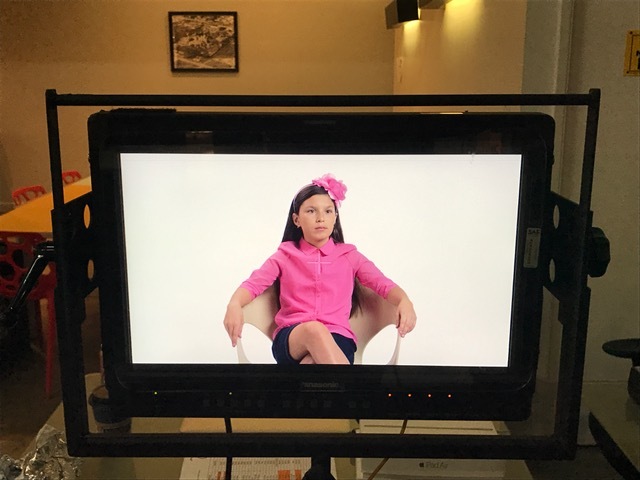 Since it was starting to rain we decided to go to Madame Tussaud's Wax Museum (Kori loves it!) and then walk around Hollywood visualizing where Kori's star will be one day (Yes, Kori visualizes. I am a huge believer that if you can see it, you can believe it, if you can believe it, you can achieve it; so I have always encourage Kori to see in her mind whatever she wants to attain or become, and, more importantly, we have always encourage Kori to dream big and to believe that she will be able to achieve anything she sets her mind into. Will it be easy? no, but if she is willing to put the effort and the work and have discipline and patience, I don't see why she wouldn't get anything she wants from life.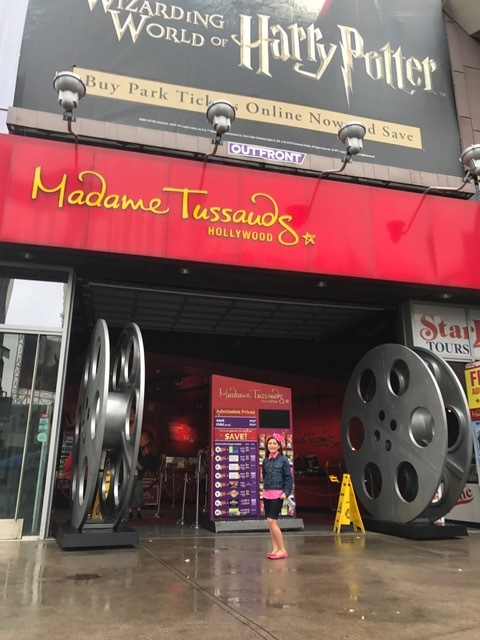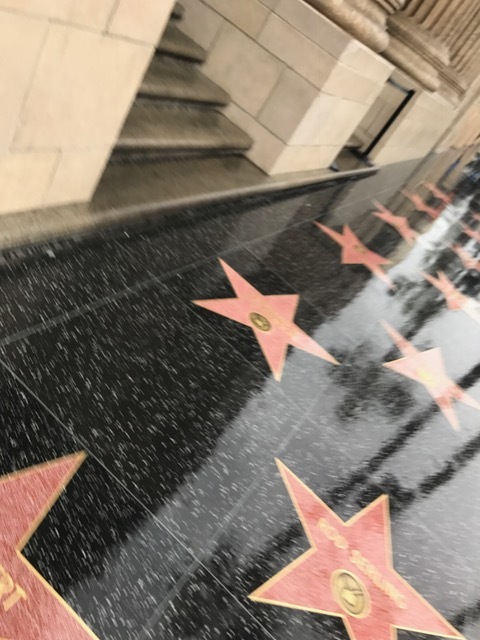 So, when we got out of Madame Tussaud's the storm had completely rolled in. It was pouring, the wind was super strong, palm trees were everywhere.... so we decided to buy an umbrella and run to the car in order to head to the airport with hopes that our flight wouldn't be cancelled. The umbrella lasted 0.5 seconds before the wind blew it away so, needless to say, we got soaking wet. Kori had extra clothes but I didn't. I dried myself with the heater in the car and was just praying this wouldn't set me back even more. 
The weekend went well, other than super wet. Kori did great in her synchro meet and today she is in a swimming meet. I can feel the antibiotics have been working and I am feeling much better. I don't cough with every word I speak and I can tell my energy is coming back. The doctor said if I felt better I could run some in the middle of the week, but I decided I will give myself the full week off. Again, this could be the worst that can happen on a week where I am supposed to be racing (and keep in mind I have had my best training cycle ever! I have been hitting paces I haven't done before). I was hoping I would PR and run under 1:13.5 (even though we are not in control of this my training pointed to this being possible). I haven't run in so long a half marathon in AZ that this was a great opportunity for a come back (I was planning on running the Phoenix Half Marathon). Instead, I am sitting planning my next cycle and being conservative about when to go back running. So how come I am not upset about this you may ask?... easy, I like to count and find the blessings instead of the faults and downside to things that are out of my control. Let me explain:
1) Kevin is gone so I would have to rely on my mom and friends to get Kori around on Friday after school (she has swim practice which means I would go to bed late) and her Saturday activities (synchro from 8-12, swim from 12-1:30 in a different pool and piano right after swim)
2) Last weekend craziness turned out better because I didn't have to add my running to everything that was happening
3) I get to rest and catch up on the House Hunters International I have recorded and haven't been able to watch
4) If I rest now and skip one race I will still be able to compete in the other races I have planned this season (Cooper's River Bridge 10k and 25K National Championships).
5) There are so many nice people in my life and I am surrounded by love. From my dad -with whom I have had a strained relationship- and who called me right away because he heard I was sick. To my adoptive dad (David, my mom's husband and whom I adore) who brought me lentil soup and has been checking on me on a daily basis, to my mom whom I had to tell to stop checking on me ;), to my friend Crystal who took Kori to her swimming meet on her day off so I could teach and rest, to my students and their families who have been checking how I am doing and understood I couldn't teach last week, to the many friends that have left me a kind word on my Facebook page or sent me a text and have offered me help. Thank you. Really. Thank you. How can I be upset about being sick when I have so much love in my life?
6) I can get medicines. I can see a doctor. I am not saying it's cheap but I was able to afford them and get the help I need. Many people in this country can't do it. Many people in the world don't have access to healthcare. For that I am thankful
7) I love running. I have many races planned and many workouts to do. I have been training hard for this race. But running is what I do and not who I am and being sick makes me realize not only how much I love it but also that what I like about it is the journey and not the destination. Don't get me wrong, I love racing, I crave racing and testing and expanding my limits under pressure, but life is all about living in the moment and enjoying what you are doing RIGHT NOW. I don't think this is a wasted cycle for a) I enjoyed everyone of my runs b) all this training stays with me and I will keep building over what I have gained (gains don't go away unless you stop for several months) c) I choose to be happy and accept things the way they are instead of wishing they were different or play victim.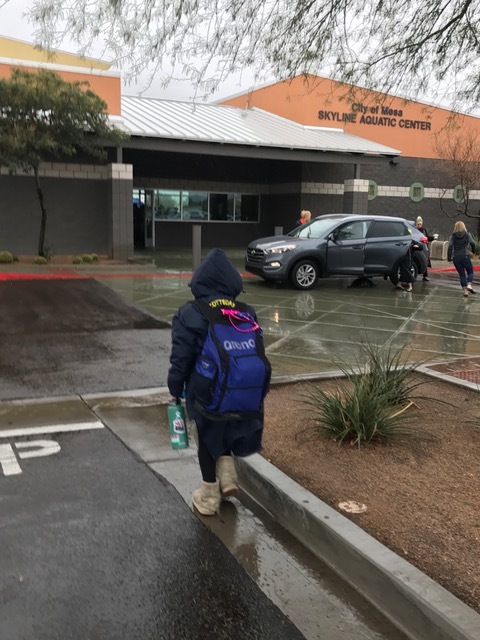 Focus on all the positives in your life. Remember that nothing is permanent and things happen for a reason.Look for the positives of every situation you face and sooner than later you will realize the universe is conspiring to help you and always has your best interests in mind, even if that is something different to what you may have wished for. And, it really takes the same amount of effort to be happy than to be miserable. Which one will you choose?
Thanks for reading. Remember you can find daily mental tune ups in instagram (@insightfulrunner), twitter (@terezacher) or Facebook