EXERCIZE TO ENERGIZE
A friend of mine tried this workout in order to gain strength and she ended up losing 5 kilos (about 11 pounds). The key
was consistency (As in everything!). Try it for yourself these two weeks and let us know your results!!! It has five days worth
of workouts for the week, feel free to modify the days in the way that works better for you.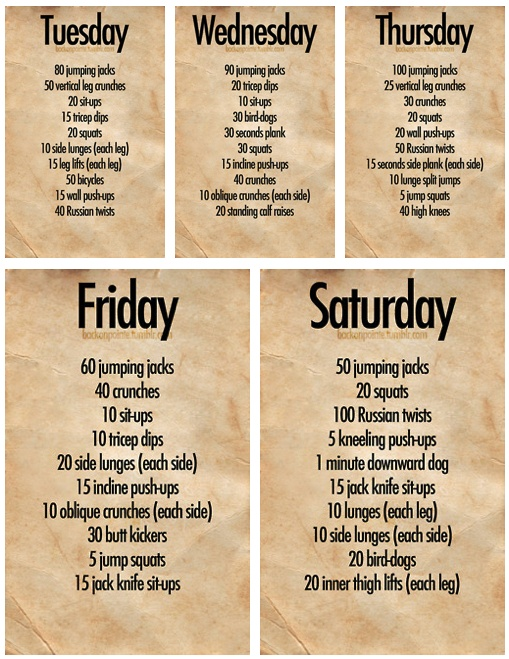 MOTIVATION
Raise Your Endurance.
We tend to give up on goals when we don't see results. Some people give up when they don't see a change overnight, while
for others it might take several months to reach their breaking point.  It's in raising our endurance that we become stronger,
and grow closer to reaching our goals. If we persist when we feel  like we can't take it anymore and are ready to throw in the
towel, that's when we step into the miracle zone.  The great leaders of this world are the ones who had certainty, and never
gave up just because they didn't see results.  It is through enduring efforts that we can see great accomplishments.
These two weeks when you see obstacles think of them as challenges. Remember where you want to go, your goal or destination,
and remember this is temporary and that in order to get to the sun we have to put up with a few blisters.
Eliminate your distractions. Identify anything that's causing you to procrastinate, then get rid of it. Sell it or put it in a storage locker.
Move away from it. Throw it away. You can't become motivated if you're squandering all of your time. •If you're spending too much
time aimlessly browsing the internet, install a "productivity" extension in your browser. These free extensions allow you to block
certain sites and/or set time limits for recreational browsing
SNACK SMART
These two weeks we will focus on the smart snacks for our children (although if we are feeding our children healthy
snacks it means we can eat them as well). I struggle every day while packing my daughter's lunch because I don't
want to give her the same food over and over again (as I generally eat for convenience), but I have found that many
of the snacks I was giving her had a lot of sugar and poor nutritional content. So, How to make snacking and lunch
fun for the kids while they are eating healthy at the same time? Here is a chart with 50 ideas we can try: